Customer Reviews
08/03/2020
Anonymous
United States
Love My Junk!
These trunks are the best. The pattern and colors are awesome and as a woman with a petite frame, they fit perfectly - just the look I was going for. Definitely plan on buying more pairs
08/01/2020
Anonymous
United States
It wasn't broke, so why'd you fix it
My boys and I have purchased almost exclusively JIYT over the past few years, and the main reason was the lack of mesh lining. We gave the new models a try, but the mesh isn't anymore comfortable than any other mesh. In light of JIYT being just like every other pair of trunks now, this may be our last order. Here's hoping our original 12 pairs last forever...cheers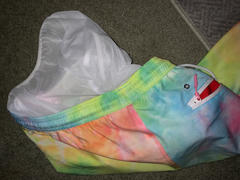 07/30/2020
Jon E.
United States
Great Shorts!
The shorts were great! I wear them in the gym and are my favorite pair. Ordered the wrong size for one pair but my wife likes them too.
07/23/2020
Anonymous
United States
Piece of Sh****t
Never thought that would be a compliment but hey.....love the garage you guys produce!
07/22/2020
Matt C.
United States
Great Shorts
I really like the red/black striped shorts I purchased. I like my swim trunks to fit a little shorter in length so these are perfect. I ordered the wrong size so I had to do a return which always sucks but their process for exchanges is spot on. The shorts in the correct size I wanted were on their way to my house before I could even ship the wrong size back. Awesome Customer Service!!
Our Other Trunks