Customer Reviews
10/15/2020
Dean C.
United States
Amazed and Extremely Satisfied
I live in Hawaii. Shorts are a big deal. 90% of my lower-body wardrobe is made up of some kind of shorts. My wife somehow stumbled upon Junk In Your Trunks, and sent me the link for a pair that she liked. Then I picked out a second pair and pulled the trigger on both. These shorts are more comfortable than any others I've ever had, hands down. I wore them for the first several days and didn't want to take them off. Don't worry, I did eventually take them off to wash them. My wife (and I) both love how they fit on me, and the colors & styling are fantastic. I am going to order another pair or two soon. HIGHLY RECOMMEND!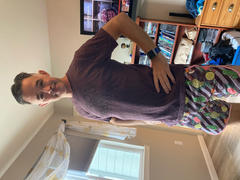 10/12/2020
bryan d.
United States
Solid set of trunks
Great shorts, both in and out of water. Fast drying and comfortable material. Environmentally friendly tops it off. Won't be my last pair.
10/02/2020
Paul J.
United States
Head Turner
Great trunks. Definitely ordering again. Comfortable stretchy fit with functional pockets and head turning design.
09/24/2020
Onur I.
United States
Love these trunks!!
These are my go to trunks! Incredibly comfortable and the liner is a great addition to help keep my guys in place throughout the day!
09/22/2020
Joseph M.
United States
BESIDES THE TRUNKS....
Aside from the fact that I love the junks, I love the company! I asked for an exchange via e-mail, received a reply within MINUTES and had a new pair already being shipped by the time I responded! Many companies offer high quality products, but few meet their products in terms of customer service, but this company is AWESOME! Highly recommended. P.S. I could live in these shorts! HIGHLY RECOMMEND.
09/24/2020
Junk In Your Trunks
So happy you're happy! come back soon :)
Our Other Trunks